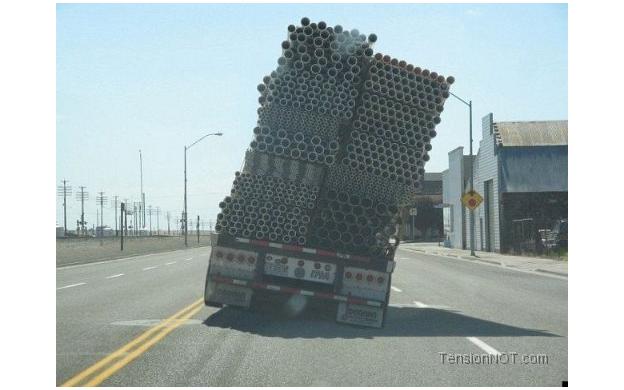 June 10, 2012

Will this truck tip?
Will it topple over? (Can I actually use this in a classroom or is it just interesting?)

How many pipes will they have to clean up in a couple seconds?

How much more would it take for it to flip?

Why is it tipping like that?

Is it safe to drive to the right of that truck?

How many pipes would be required to balance this?

At what angle is the bed of the truck leaning to the ground?

Who's gonna have to pick this up?

Where's the center of mass?

What do you think that a car would be thinking right now if they saw that?

How many tubes are on this trailer?

Where is the center of mass?

How long until it tips over?

At what angle will the pipes fall?

How many PVC pipes will fall?

Does the truck fall over?

How could the pipes be arranged so that the truck is balanced?

At what angle is the truck leaning?

why aren't those pipes organized?

Is it going to turn over?

What's the "point of no return" for this load tipping over?

Are the pipes on the right heavier or did this guys get a flat tire?

What's going to happen when the truck reaches the stop sign?

Will the pipes fall off before the truck keels over

Where is the centre of gravity for the load? Will it fall?

When is this going to tip over?

Is it better for the truck to stop or speed up?

will the lorry fall over?

Why did it lean to one side?

This picture makes me terribly uncomfortable. Also, did they distribute the weight in the best way?

when is it going to tip over

Is the truck going to fall over?