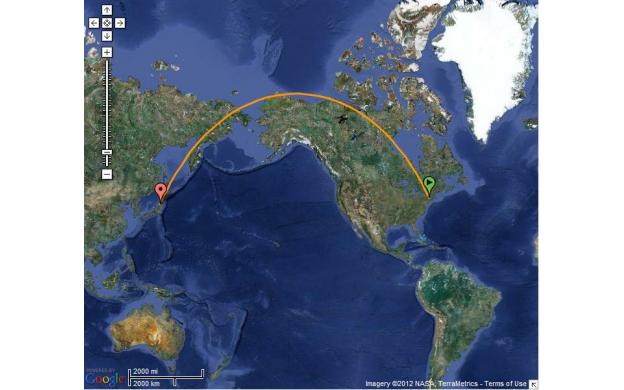 June 09, 2012

Why not a straight line?
Why would a plane fly that path?

What does this path represent?

Is that the shortest route?

How long is a flight west from New York (is it?) to North Korea (is it?)?

How much longer is that than a straight route? Or is it because of the curvature of the Earth?

Is is parabolic or sinusoidal?

What is the difference in distance from a "straight" line between points?

What is the length of the arc?

Is this the shortest route from point A to point B?

How many miles would you fly on this trip?

How much faster is it to fly from Japan to Boston via the highlighted route vs. a straight line from Japan to Boston?

What would the equation of this parabola be?

How does that path look when it's on a sphere instead of in that projection. What about a Fuller projection?

How far between those two points?

Why did they fly this way?

Isn't that a very round about way to go? I'd just go in a straight line...

What is the total distance between New York City and London, England?

How many miles? What type of transportation? How fast?

What would it be like to travel across the ocean?

Why is the line so curved?

Is that really the flightpath?

What is my highest point?

is that the quickest route?

How long would a flight be between the two places?

Is that the shortest route?

Why do they take the long way over?

How many hours would this flight take?

How far away it is, and what transportation they are using to get there.