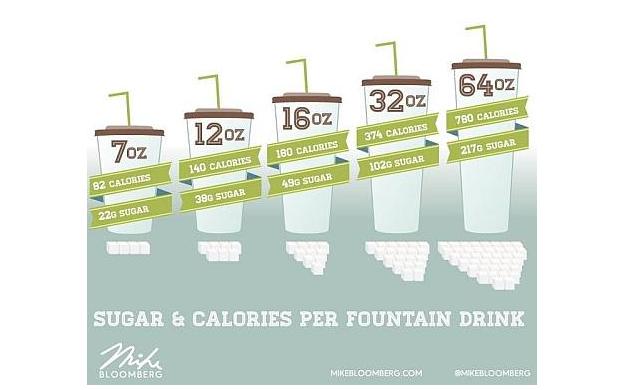 June 08, 2012

Are these proportions accurate?
What is so significant about 12oz? 16oz? Why not 11oz? Why does this standard in cup sizes exist?

Why do the calories and sugar more than double for the 16 to 32 and the 32 to 64 oz drinks?

Why are the calories and amount of sugar not proportionate?

How am I getting my own picture? Did I put it up first or second?

What function would fit sugar v. cup size best?

How come the calories are not proportional to the drink size?

Is there anything misleading about how the information is displayed?

How many calories in a 128 oz drink?

How many calories are in one gram of sugar?

Why aren't the sugars growing proportionally?

If you had two 32 ounce sodas and a 12 ounce soda over the weekend, how many grams of sugar will you have consumed?

Why does the the 32oz drink have 374 calories and not 360?

What's the average amount of calories?

Why isn't it perfectly proportional between 32 oz and 64oz?

Why are fountain drinks filled with sugar?

Why aren't they direct variation?

How many calories per ounce?

How can double the soda have more than double the sugar?

which is the most popular?

Is the sugar and oz both growing at the same rate?

What is the ratio of calories to ounces?

How many grams of sugar in 8 oz?

Is it a linear relationship between all of the values?

How large of a fountain drink would you need, in order to drink 1000 calories?

Why doesn't it scale from 16-32g linearly?

What percentage of the recommended daily sugar intake would each size contain?

Are the amounts of sugar proportional to the number of ounces/number of calories?

Which drink is the best to have based on amount of recommended sugar per day?

What would the 27th step of sugar cubes look like?

How can limiting the size of soft drinks contribute to the obesity epidemic?

why do drinks get begger over time

How much does each size cost?